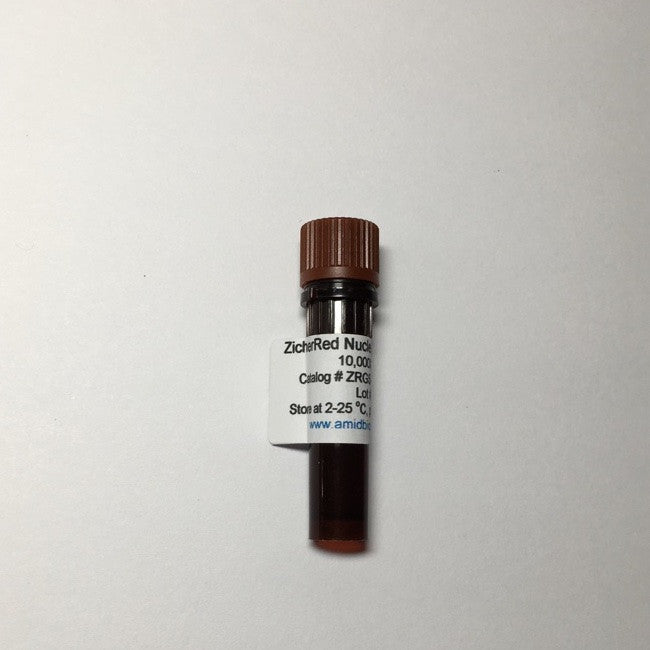 Amid Biosciences| Protein Expression and Purification Products
ZicherRed Nucleic Acid Safe Gel Stain
---
ZicherRed is a highly sensitive and environmentally safe fluorescent nucleic acid dye for detection of DNA and RNA in agarose and polyacrylamide gels. ZicherRed Nucleic Acid Safe Gel Stain emits red fluorescence when bound to dsDNA, ssDNA, and RNA and replaces the need for the mutagenic ethidium bromide, commonly used in gels staining procedures for visualization of nucleic acids. ZicherRed is not cell-permeable and nonmutagenic in the Ames test. DNA visualization after staining with ZicherRed can be done using conventional gel imaging instruments (UV transilluminators).
The blue LED illumination can be used too, however, ZicherRed stained nucleic acid bands will be less prominent. For blue LED transilluminators, we recommend our ZicherGreen Nucleic Acid Safe Gel Stain (catalog # ZGGS-701).
The dye is efficiently removed from DNA by gel extraction or ethanol precipitation, and therefore does not interfere with downstream DNA manipulations such as restriction digestion, ligation, PCR, and sequencing.
ZicherRed Nucleic Acid Safe Gel Stain, 10,000X stock is a concentrated solution that can be diluted 10,000 times for use in precast gel staining or 5,000 times for use in post gel staining according to the procedures described in the product manual.
Features:

Detection of dsDNA, ssDNA and RNA in gel by pre-staining or post-staining
Safer alternative to the ethidium bromide staining
Highly sensitive (0.6 ng for 500 bp DNA fragment)
Compatible with various gel imaging instruments
Figure 1. Comparison of nucleic acid gel stains. Serial dilutions of 1kb DNA Ladder ranging from 10 to 30 ng total DNA per lane were run on 1 % agarose gel precast with SYBR® Safe DNA Gel Stain (left panel) and ZicherRed Nucleic Acid Safe Gel Stain (right panel). Bands were visualized by exposure to UV light (312 nm).
Catalog # ZRGS-701
Storage:
Room temperature or 4°C, protected from light.
Usage:
This product is intended for laboratory use only.
---
Share this Product
---
More from this collection