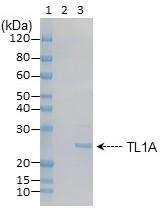 Amid Biosciences | Protein Engineering Company
TL1A Protein, Human, Recombinant, Biotinylated
---
TL1A, also known as TNFSF15, is a tumor necrosis factor (TNF) family member cytokine expressed by monocytes, macrophages, dendritic cells (DCs), synovial fibroblasts, and endothelial cells. Its cell surface receptor, DR3 (also known as TNFSF25, WSL-1, TRAMP, and LARD), is mainly expressed by T cells. TL1A has been linked to human inflammatory bowel disease (IBD). 
A DNA sequence encoding the human TL1A (Qln58-Leu251) with a polyhistidine tag and AviTag™ peptide at the N-terminus was expressed in E. coli and biotinylated at AviTag™. Based on the size-exclusion chromatography data, the purified protein elutes as a trimer.
Catalog# TL1A-B-301
Storage buffer: 20 mM Phosphate buffer, pH 7.4, 120 mM NaCl, 5 mM 2-mercaptoethanol, and 10% glycerol. 

Molecular weight: ~25 kDa (monomer)
Purity: >90% by Coomassie staining 
Storage is recommended at -80°C for longer periods of time. 
International Shipping:  Product requires shipping on ice packs. Please contact info@amidbiosciences.com for shipment estimates.
For Bulk Orders or Custom Packaging:  please contact info@amidbiosciences.com
This product is for laboratory research use only.
SDS_EU: TL1A-B-301_TL1A Protein, Human, Recombinant, Biotinylated
---
Share this Product
---
More from this collection