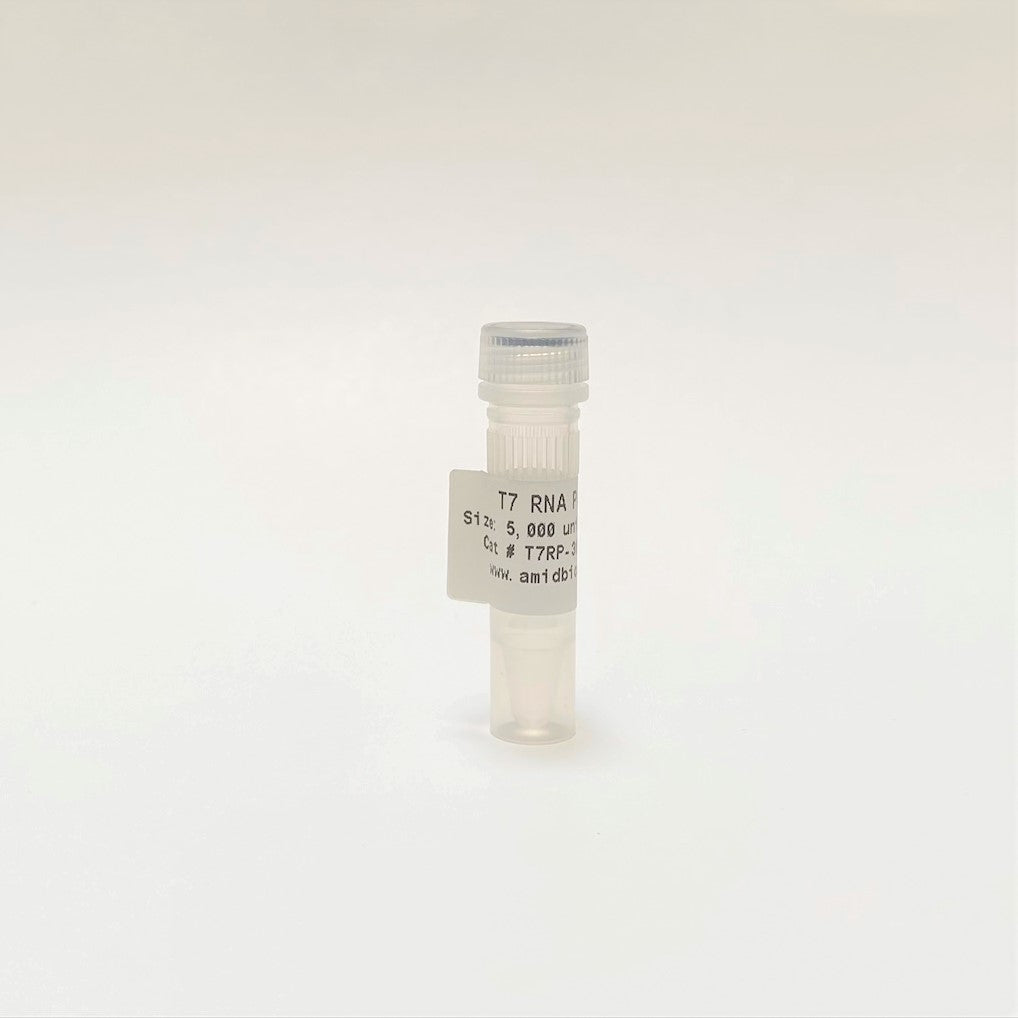 Amid Biosciences | Protein Engineering Company
T7 RNA Polymerase
---
T7 RNA Polymerase is a DNA-dependent RNA polymerase that exhibits high specificity for its cognate promoter sequence 5'-TAATACGACTCACTATA-3'. The enzyme can incorporate labeled or unlabeled nucleoside triphosphates into an RNA transcript from a DNA sequence cloned downstream of the T7 promoter.  
Applications
Synthesis of mRNA for in vitro translation.
Synthesis of guide RNA.
Generation of antisense RNA.
Generation of probes for nucleic acid hybridizations.
Storage buffer: 40 mM Tris-HCl (pH 7.9 at 25°C), 100 mM NaCl, 1 mM DTT, 0.1 mM EDTA, 0.1% (v/v) Triton® X-100 and 50% glycerol.
The enzyme is supplied with 10X T7 RNA Polymerase Buffer (400 mM Tris-HCl, pH 7.9, 60 mM MgCl2, 100 mM Dithiothreitol, 20 mM Spermidine).
Catalog number: T7RP-301
Concentration: 50,000 U/ml
Unit Definition: One unit is defined as the amount of enzyme that will incorporate 1 nmol of CTP into acid-insoluble material in 1 hour at 37°C and pH 8.0 using linear DNA as the substrate.
Source: Purified from a strain of E. coli that expresses the recombinant T7 RNA Polymerase gene.
Storage: –20 °C
Usage: For laboratory research use only.
---
Share this Product
---
More from this collection