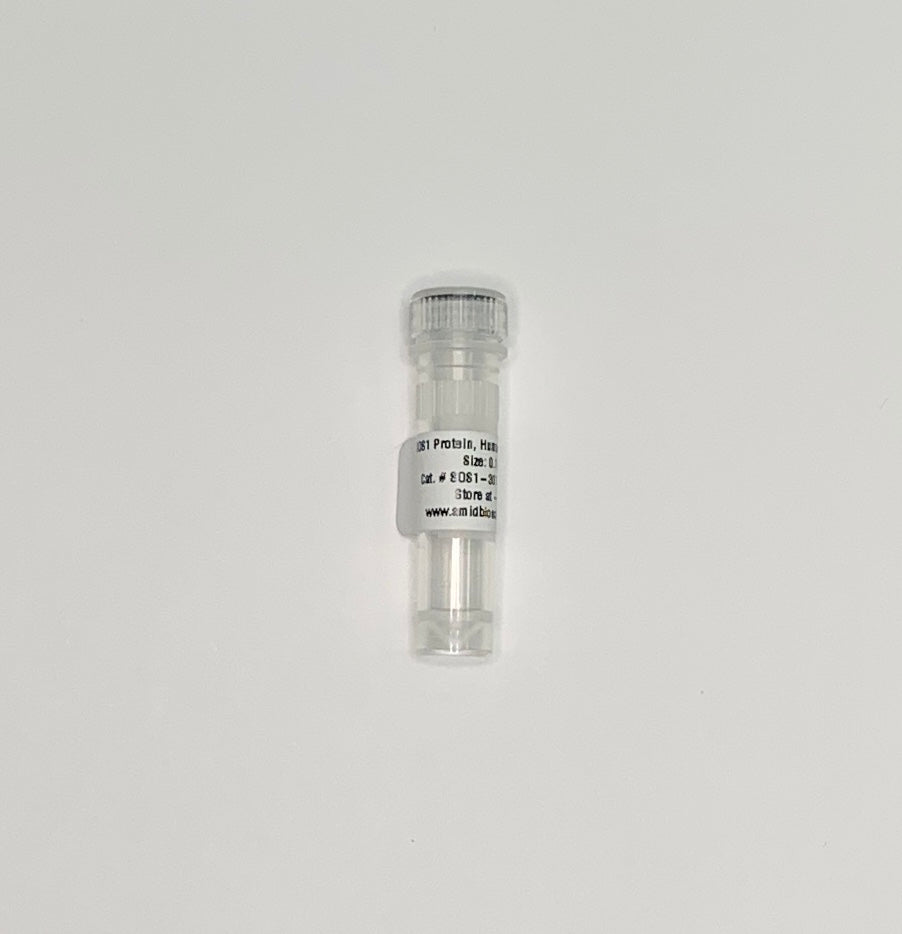 Amid Biosciences | Protein Engineering Company
SOS1 Protein, Human, Recombinant
---
SOS1, also known as son of sevenless homolog 1, is a Ras and Rac guanine nucleotide exchange factor (GEF). SOS1 binds and activates GDP-bound RAS family proteins at its catalytic binding site and in this way promotes exchange of GDP for GTP. Depletion of SOS1 or specific genetic inactivation of its GEF function has been shown to decrease the survival of tumor cells harboring a KRAS mutation (1).
The recombinant protein (amino acids 563-1049 of human SOS1) contains two domains, REM (Ras Exchanger Motif) and CDC25 (cell division cycle 25). CDC25 activates Ras and promotes nucleotide exchange on Ras proteins (2). The REM domain contains an activating allosteric site which binds Ras-GTP leading to additional stimulation of the CDC25 domain and potentiating the Ras-GTP exchange stimulated by SOS1.
The human SOS1 (Lys563-Thr1049) fragment with a polyhistidine tag at the C-terminus was expressed in E. coli.
Sequence of recombinant human SOS1 protein:
MKEEQMRLPSADVYRFAEPDSEENIIFEENMQPKAGIPIIKAGTVIKLIERLTYHMYADPNFVRTFL
TTYRSFCKPQELLSLIIERFEIPEPEPTEADRIAIENGDQPLSAELKRFRKEYIQPVQLRVLNVCRHW
VEHHFYDFERDAYLLQRMEEFIGTVRGKAMKKWVESITKIIQRKKIARDNGPGHNITFQSSPPTV
EWHISRPGHIETFDLLTLHPIEIARQLTLLESDLYRAVQPSELVGSVWTKEDKEINSPNLLKMIRHTT
NLTLWFEKCIVETENLEERVAVVSRIIEILQVFQELNNFNGVLEVVSAMNSSPVYRLDHTFEQIPSR
QKKILEEAHELSEDHYKKYLAKLRSINPPCVPFFGIYLTNILKTEEGNPEVLKRHGKELINFSKRRKV
AEITGEIQQYQNQPYCLRVESDIKRFFENLNPMGNSMEKEFTDYLFNKSLEIEPRNPKPLPRFPKK
YSYPLKSPGVRPSNPRPGTLEHHHHHH*
Catalog# SOS1-301
Applications
Study inhibitors of SOS1 GTP exchange activity
Identification of SOS1 binding proteins
Study of SOS1 GEF activity with different GTPases
Storage buffer: 20 mM HEPES, pH 7.5, 100 mM NaCl, 1 mM 2-mercaptoethanol, 20% Glycerol. 
Concentration: 1.0 - 2.0 mg/mL by A280 (please see specific lot number).
Molecular weight: ~58.3 kDa
Purity: >90% by Coomassie staining 
Storage is recommended at -20°C for longer periods of time. 
International Shipping:  Product requires shipping on ice packs. Please contact info@amidbiosciences.com for shipment estimates.
For Bulk Orders or Custom Packaging:  please contact info@amidbiosciences.com
This product is for laboratory research use only.
References
Jeng, H. et al. SOS-mediated cross-activation of wild-type Ras by oncogenic Ras is essential for tumorigenesis. Nat Commun 2012; 3:1168.
Pierre, S. et al. Understanding SOS (Son of Sevenless). Biochem Pharmacol. 2011 Nov 1;82(9):1049-56. 
---
Share this Product
---
More from this collection