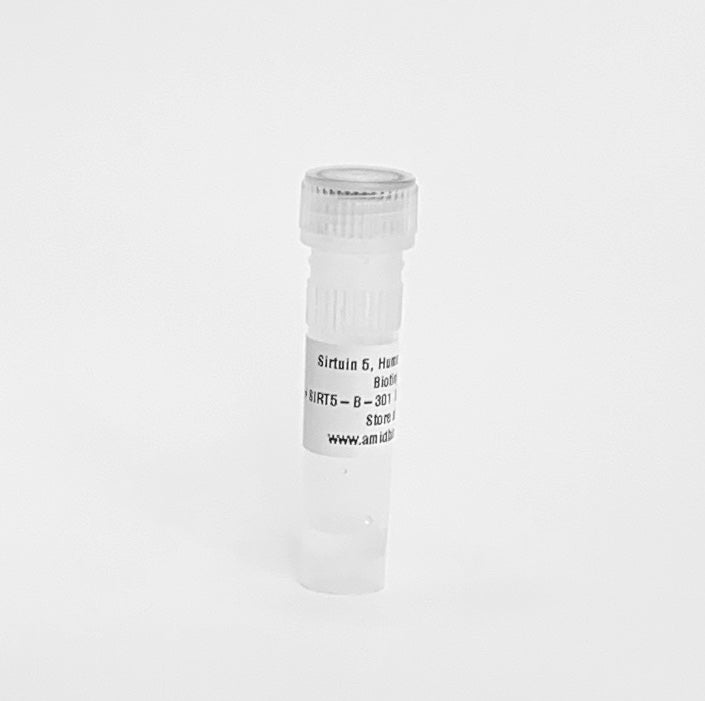 Amid Biosciences | Protein Engineering Company
Sirtuin 5, Human, Recombinant, Biotinylated
---
SIRT5 (Sirtuin 5) is a member of the SIR2 / Sirtuin family of nicotinamide adenine dinucleotide (NAD+)-dependant deacetylase enzymes. Sirtuin family enzymes can be found in the cytoplasm, mitochondria or nucleus of a cell and are ubiquitously expressed. SIRT5 has multiple enzymatic functions, such as NAD+-dependent lysine demalonylase, desuccinylase and deglutarylase that specifically removes malonyl, succinyl and glutaryl groups on target proteins.
Recombinant SIRT5 protein with the N-terminal AviTag™ peptide and His-tag is produced in E. coli cells and site-specifically biotinylated at AviTag with BirA enzyme (https://amidbiosciences.com/collections/proteins/products/bira-biotin-ligase).
Tag(s): the N-terminal His and AviTag
Amino acids: 37-310 of SIRT5 (UniProt# Q9NXA8-1)
Molecular weight: ~ 33 kDa
Catalog # SIRT5-B-301

Storage buffer: 20 mM HEPES, pH 7.5, 150 mM NaCl, 2 mM 2-mercapthoethanol, 10% glycerol. 
 
Purity: >90% by Coomassie staining 
Storage is recommended at -80°C for longer periods of time. 
For Bulk Orders or Custom Packaging: please contact at info@amidbiosciences.com
International Shipping:  Product requires shipping on dry ice. Please contact info@amidbiosciences.com for shipment estimates
This product is for laboratory research use only.
---
Share this Product
---
More from this collection