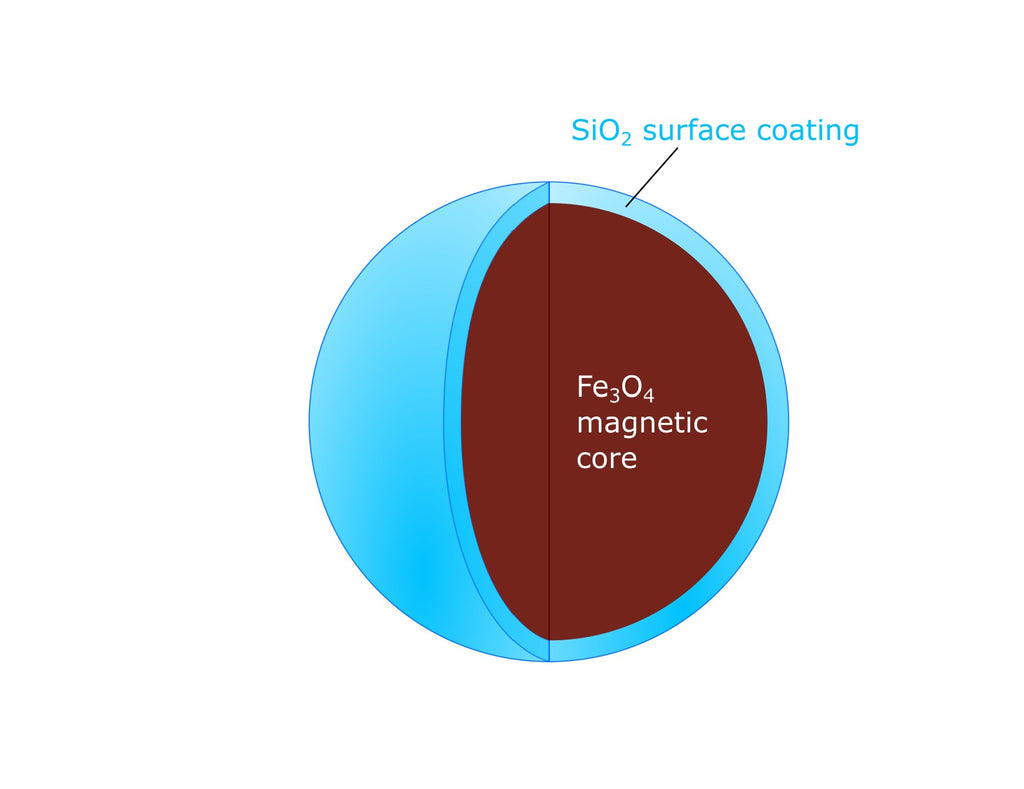 Amid Biosciences | Protein Engineering Company
Silica Coated Magnetic Nanoparticles | RNA Extraction
---
Description:
 Amid Biosciences' SilaMag Nanoparticles are produced by employing a modified Stoeber process by hydrolysis of orthosilicates on magnetite surface. Silica coating improves stability and shelf life of the magnetic NanoBeads.
The surface of SilaMag Nanoparticles contains terminal Si-OH bonds facilitating hydrophilic properties. Additionally, Si-OH bonds enable the surface functionalization by offering diverse active groups including NH2, COOH, SH, N-hydroxysuccinimide (NHS) and epoxy for the covalent binding of proteins, antibodies, DNAs, RNAs and other molecules.    
 Properties:
SilaMag Nanoparticles are stable in water and common buffers.
Specification:
Size:

~

 400 nm
Concentration: 10 mg/ml
pH: 7.0
Density: 1.3 g/ml
 Applications:
SilaMag NanoBeads allow quick separation from solution.
clean-up and size exclusion procedures,
plasmid DNA extractions,
isolation of total nucleic acids from mammalian cells,
gDNA extraction,
RNA from mammalian cells,
methylated DNA extraction.
Storage/Stability
Suspension in water. The suspension should be stable approximately one year stored at 2-8 °C.
Precautions and Disclaimer
SilaMag Nanoparticles for laboratory use only; not for diagnostic, drug, household or other uses. Please refer to the Material Safety Data Sheet (MSDS).
Catalog # SN-101-1 and SN-101-5
---
Share this Product
---
More from this collection