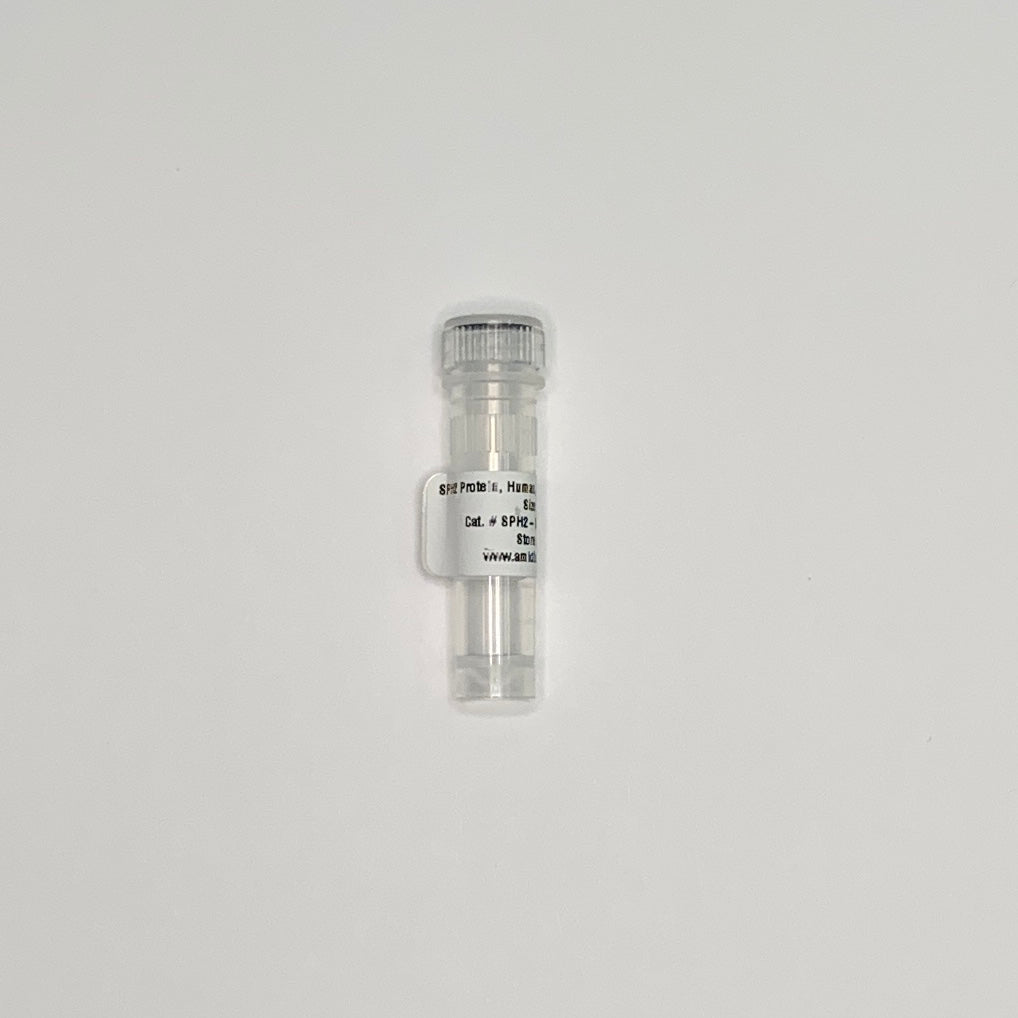 Amid Biosciences | Protein Engineering Company
SHP2 Protein, Human, Recombinant, Biotinylated
---
SHP2, a Src homology 2 (SH2) domain containing non-transmembrane protein tyrosine phosphatase (PTP), is involved in a variety of signal transduction processes, such as the Ras-Raf-MAP kinase, Jak-Stat, and PI3 kinase pathways (1). Experimental data have also indicated SHP2 as a direct activator of Ras and a potential therapeutic target for cancers driven by oncogenic or hyperactive Ras variants (2, 3).
Recombinant SHP2 protein with the N-terminal AviTag™ peptide and His-tag is produced in E. coli cells and site-specifically biotinylated at AviTag with BirA enzyme (https://amidbiosciences.com/collections/proteins/products/bira-biotin-ligase).
Tag(s): The N-terminal 6XHis and AviTag
Amino Acids: 1-593 of SHP2 (UniProt # Q06124)
Catalog # SHP2-B-301

Storage buffer: 20 mM Tris-HCl, pH 7.5, 100 mM NaCl, 5 mM 2-mercaptoethanol, 0.04 % Tween 20, 20% Glycerol. 
Concentration: 1.0 mg/mL by A280 (please see specific lot number).
Specific Activity: ≥100 pmol/min/μg.
Assay conditions: 20 mM HEPES, pH 7.5, 100 mM NaCl, 5 mM DTT, 5 mM para-nitrophenylphosphate (PNPP), 30 min at 30°C. Absorbance is measured at 405 nm.
Molecular weight: ~71 kDa
Purity: >80% by Coomassie staining 
Storage is recommended at -80°C. 
International Shipping:  Product requires shipping on dry ice. Please contact info@amidbiosciences.com for shipment estimates.
For Bulk Orders or Custom Packaging:  please contact info@amidbiosciences.com
This product is for laboratory research use only.
References
1. QU, C. The SHP-2 tyrosine phosphatase: Signaling mechanisms and biological functions. Cell Res 10, 279–288 (2000). https://doi.org/10.1038/sj.cr.7290055
2. Bunda, S., Burrell, K., Heir, P. et al.Inhibition of SHP2-mediated dephosphorylation of Ras suppresses oncogenesis. Nat Commun 6, 8859 (2015). https://doi.org/10.1038/ncomms9859 
3. Nichols, R.J., Haderk, F., Stahlhut, C. et al.RAS nucleotide cycling underlies the SHP2 phosphatase dependence of mutant BRAF-, NF1- and RAS-driven cancers. Nat Cell Biol 20, 1064–1073 (2018). https://doi.org/10.1038/s41556-018-0169-1
---
Share this Product
---
More from this collection