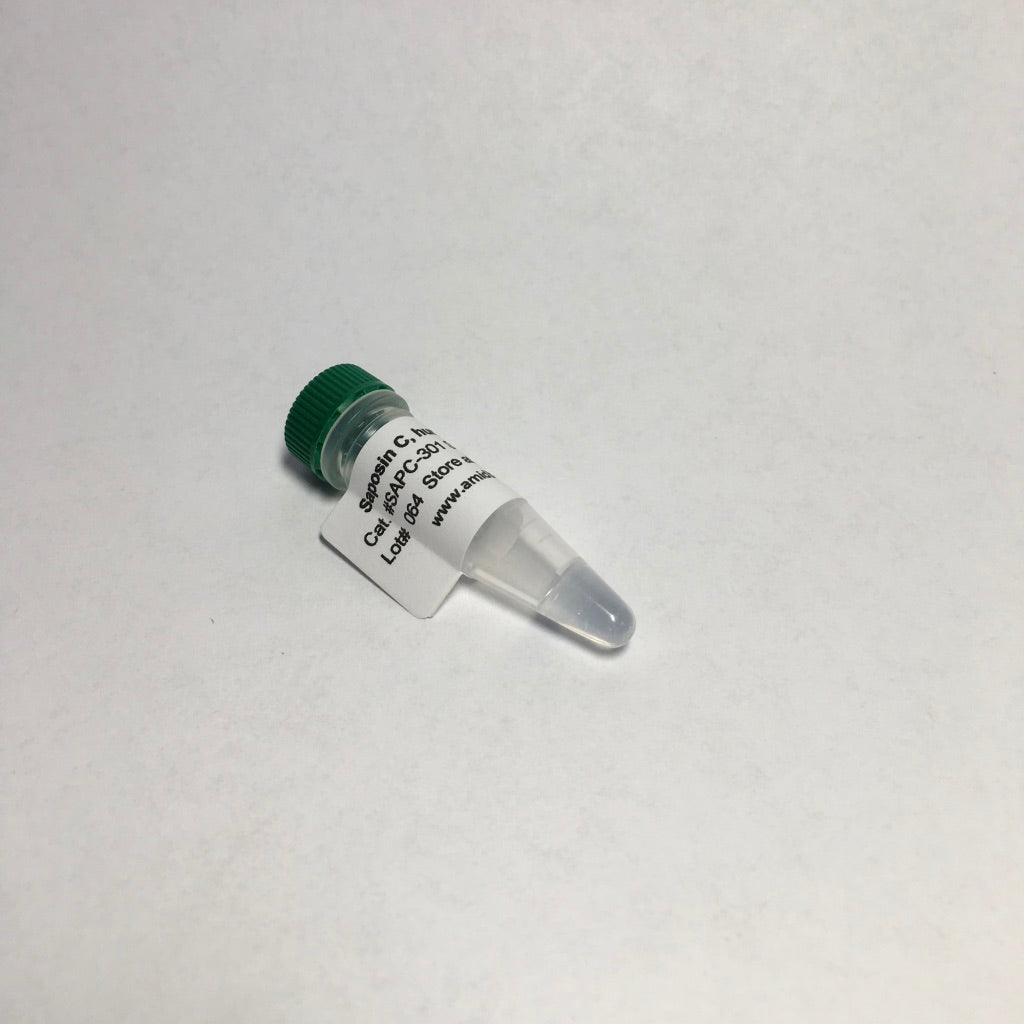 Amid Biosciences| Competent Cells and Protein Expression Vectors
Saposin C, Human, Recombinant, His-tag
---
Human saposin C is small, heat-stable glycoprotein activator of lysosomal glycosphingolipid hydrolases that derive from a single precursor, prosaposin, by proteolytic cleavage. Of the prosaposin derived saposins, saposin C shows the highest amino acid identity/similarity to saposin A. Saposin C is an essential activator for glucocerebrosidase, the enzyme deficient in Gaucher disease (1, 2). It plays role in antigen presentation of lipids through CD1b to human T cells (3). Saposins are glycosylated in a native state; however, non-glycosylated recombinant saposins produced in E. coli retain their respective activation effects in functional in vitro assays (2).
Recombinant human saposin C  with a C-terminal His-tag is produced in E. coli and purified by proprietary chromatography techniques.
Catalog # SAPC-301-1, SAPC-301-2
Storage buffer: 10 mM Tris-HCl, pH 7.5, 100 mM NaCl, and 50% Glycerol. 
Concentration: 1.0 mg/mL by A280 
Purity: >90% by Coomassie staining 
Storage is recommended at -20°C for longer periods of time. 
International Shipping:  Product requires shipping on ice packs. Please contact info@amidbiosciences.com for shipment estimates
This product is for laboratory research use only.
References
Qi. X. et al. Differential membrane interactions of saposins A and C: implications for the functional specificity. J Biol Chem. 2001 Jul 20; 276(29): 27010-7.
Qi, X. et al. Functional human saposins expressed in Escherichia coli. Evidence for binding and activation properties of saposins C with acid beta-glucosidase. J Biol Chem. 1994 Jun 17; 269(24):16746-53.
Winau, F. et al. Saposin C is required for lipid presentation by human CD1b. Nature Immunology, 2004, 5, 169–174.
---
Share this Product
---
More from this collection