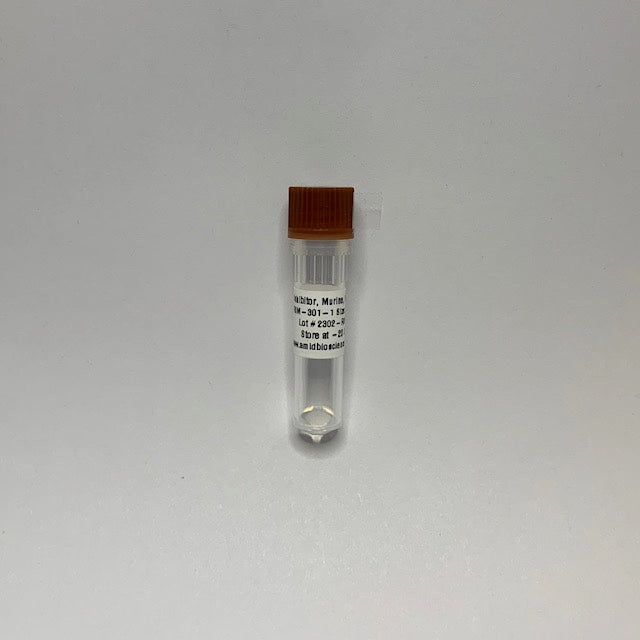 Amid Biosciences | Protein Engineering Company
RNase Inhibitor, Murine, Recombinant
---
Murine RNAse Inhibitor is a potent inhibitor of ribonucleases such as RNase A, RNase B, and RNase C. Murine RNase Inhibitor is resistance to oxidation compared to the human/porcine RNase inhibitors since it lacks the pair of cysteines found in the human/porcine versions. In addition, it is stable at less than 1 mM DTT concentration, and this property makes it useful for reactions where low concentration DTT is necessary to the reaction.
Applications
RNase inhibitor can be used in various reactions to prevent RNA degradation, for example, RT-PCR, cDNA synthesis, in vitro transcription/translation, enzymatic RNA labeling reaction.

Catalog #: RIM-301-1
Storage Buffer
20 mM HEPES-KOH, pH 7.5, 50 mM KCl, 8 mM DTT and 50% (v/v) glycerol.

Storage is recommended at -20°C. 

Unit Definition
One unit is defined as the amount of Ribonuclease Inhibitor required to inhibit the activity of 5ng of ribonuclease A by 50%. Activity is measured by the inhibition of hydrolysis of cytidine 2,3´-cyclic monophosphate by ribonuclease A.
 
This product is for laboratory research use only.
---
Share this Product
---
More from this collection