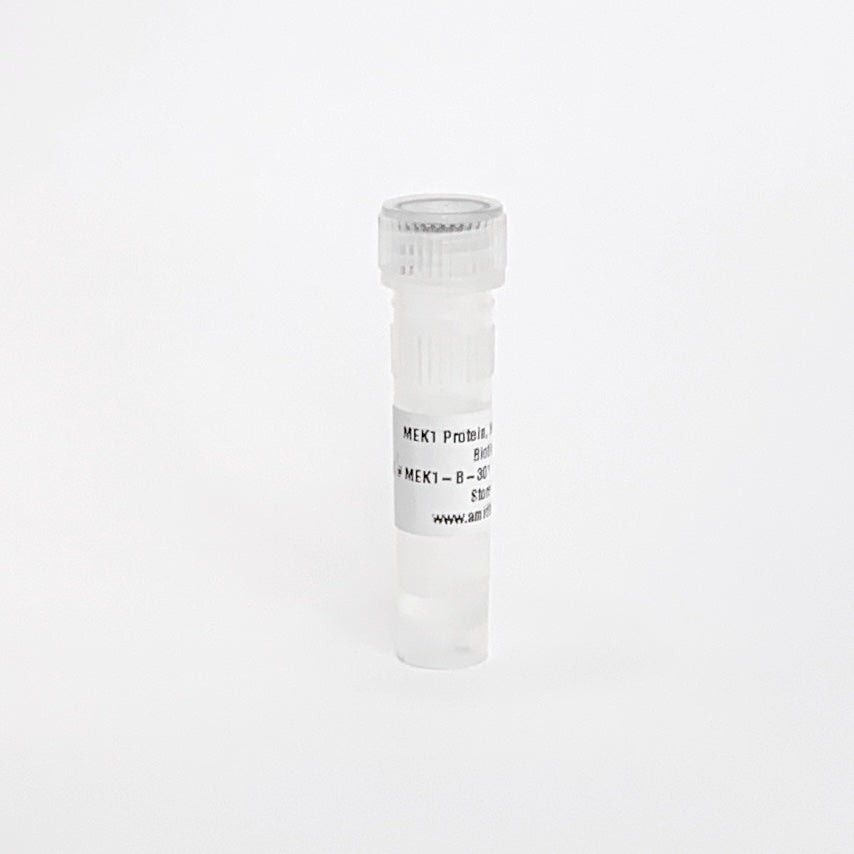 Amid Biosciences | Protein Engineering Company
MEK1 Protein, Human, Recombinant, Biotinylated
---
MEK1 is a dual specificity protein kinase, which is known as a mitogen-activated protein (MAP) kinase kinase 1 (MAPKK 1). MAP kinases are recognized as extracellular signal-regulated kinases (ERKs), that act as an integration position for multiple biochemical signals. MEK1 is located upstream of MAP kinases and catalyzes phosphorylation of threonine and tyrosine residues on MAP kinases ERK1 and ERK2. MEK1 is activated by phosphorylation of serine 218 and 222 residues by Raf1. As a key player of MAP kinase signal transduction pathway, MEK1 is involved in many cellular processes such as proliferation, differentiation, transcription regulation and development.

Amino acids: 2-393 (UniProtKB/Swiss-Prot: Q02750.2)
Tags: His-tag, AviTag
Expression system: E. coli
Purity: >90% (SDS-PAGE, Coomassie staining)
Catalog# MEK1-B-301
 
Storage buffer: 20 mM Tris-HCl, pH 7.5, 150 mM NaCl, 1 mM DTT, 0.05 mM EDTA, 0.05% Triton X-100, 50% glycerol.
Storage is recommended at -20°C for longer periods of time. 
This product is intended for research use only.

---
Share this Product
---
More from this collection