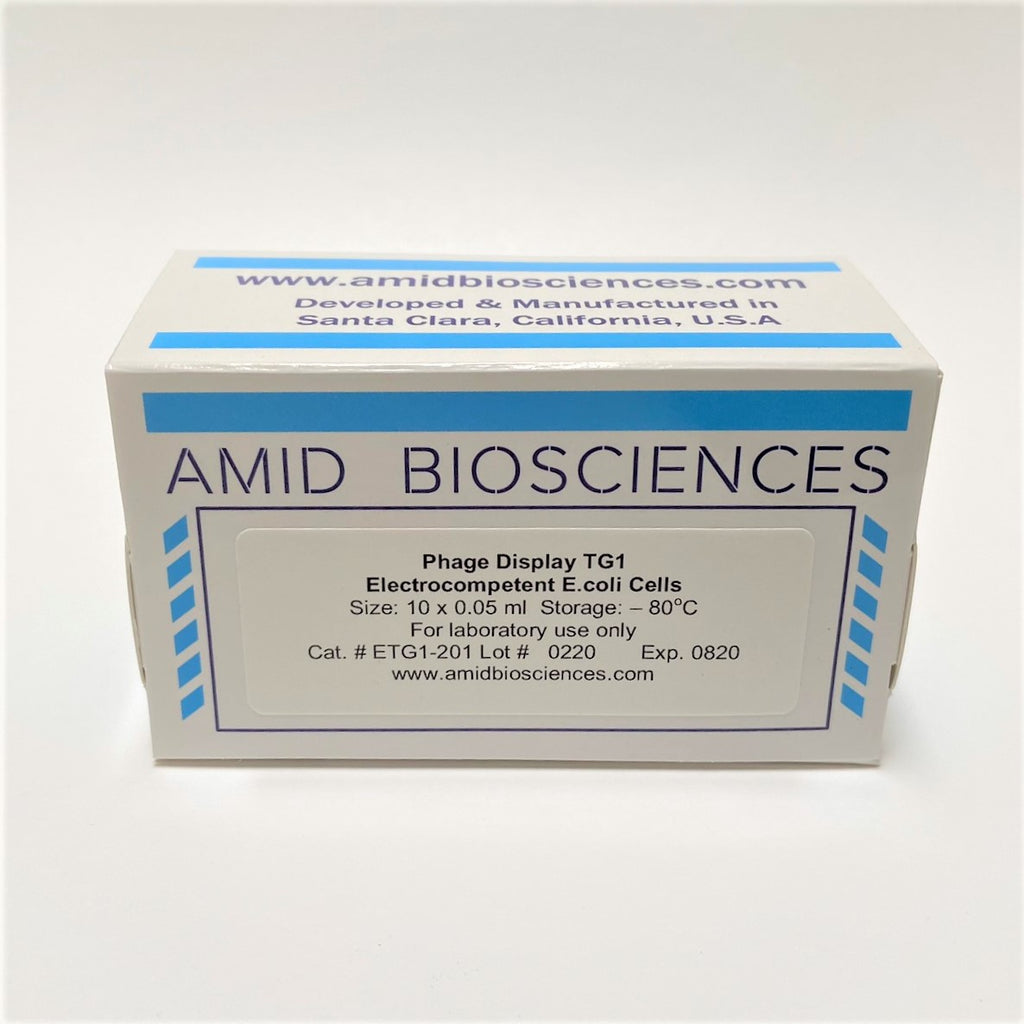 Amid Biosciences
Phage Display TG1 Electrocompetent E. coli Cells
---
High efficiency electrocompetent TG1 E. coli cells are ideal for phage display, library construction and screening, cloning, sub-cloning, and protein expression. lacIq gene encoded on F' episome allows tight regulation of expression vectors that contain an E. coli promoter under control of a lac operator sequence, like T5, tac, trc. TG1 electrocompetent cells are supplied as a pack of 10 convenient single-use aliquots (50 µl /tube). 
Phage Display TG1 Chemically Competent E. coli cells are also available. 
Bulk quantities and custom packaging are available at very competitive prices for all Competent Cells. 
Catalog # ETG1-201
Genotype:
F'[traD36 lacIq lacZ ∆M15 proA+B+] glnV (supE) thi-1 ∆(mcrB-hsdSM)5 (rK- mK- McrB-) ∆(lac-proAB)
Features and Benefits
Suitable for transformation by electroporation

Transformation efficiency ≥1 × 1010 cfu/µg pUC19
Useful for preparation of phage display libraries
Fast-growing
Amber suppressor (supE): UAG>CAG(Gln)
Appropriate for blue/white screening by α-complementation
Storage:  at -80°C.
International Shipping:  Product requires shipping on dry ice. Please contact info@amidbiosciences.com for shipment estimates. 
Usage: This product is intended for LABORATORY RESEARCH USE ONLY. Not for diagnostic or therapeutic use.
TG1 Electroporaration Protocol
---
Share this Product
---
More from this collection