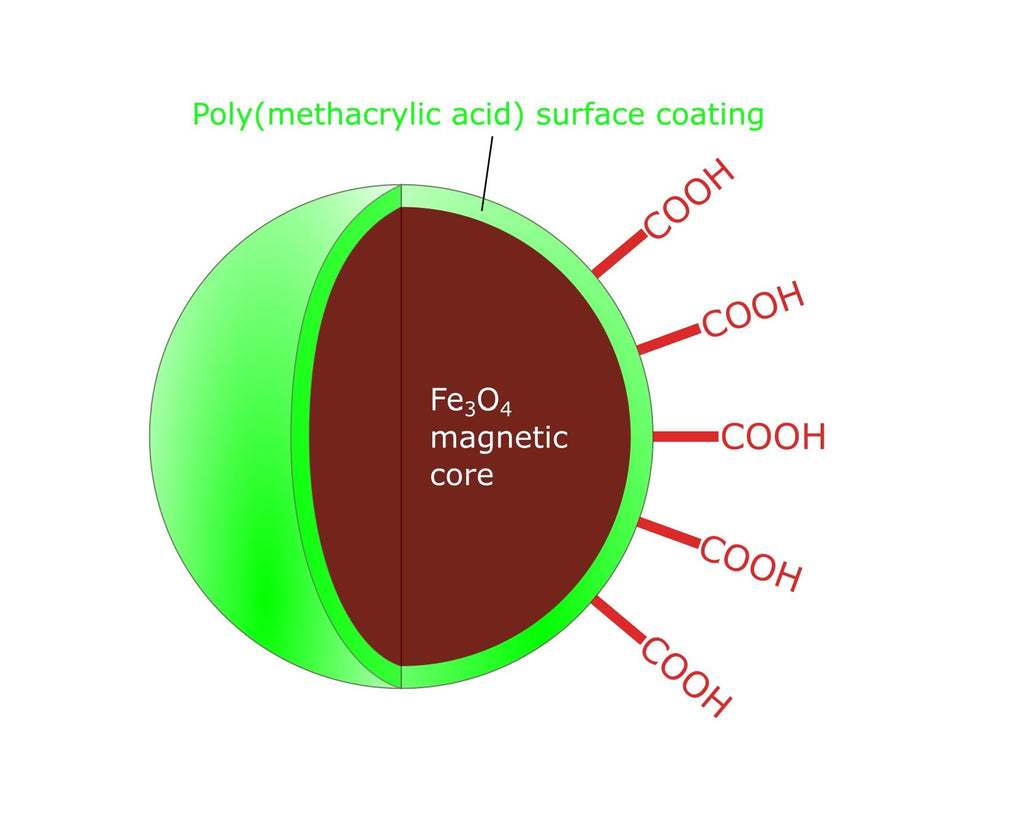 Amid Biosciences | Protein Engineering Company
Carboxyl Functionalized Magnetic Nanoparticles
---
Amid Biosciences' Carboxyl Functionalized Nanoparticles (CarboxyMag Nanoparticles) are produced by a modified radical polymerization of methacrylic acid on magnetite surface.
The surface of CarboxyMag Nanoparticles contains terminal COOH bonds that enable the surface functionalization by covalent amide bond formation to antibodies, proteins, peptides or other biomolecules via primary amine (NH2) groups. Oligonucleotides and other ligands with amine terminal groups can be easily coupled to the beads. Activation through carbodimide is required.
Properties:
CarboxyMag NanoBeads are stable in water and common buffers, and in presence of detergents.
Specification:
Size: ~ 400 nm
Concentration: 10 mg/ml
pH: 7.0
Density: 1.3 g/ml
Applications:
CarboxyMag NanoBeads allow quick separation from solution.
clean-up and size exclusion procedures,
total nucleic acid extraction,
isolation of total nucleic acids from mammalian cells,
gDNA extraction,
cells isolation
protein and antibody coupling using carbodiimide chemistry
Storage/Stability
Suspension in water and 0.01% of Tween 20. The suspension should be stable approximately two years stored at 2-8 °C.
Precautions and Disclaimer
CarboxyMag Nanoparticles for laboratory use only; not for diagnostic, drug, household or other uses. Please refer to the Material Safety Data Sheet (MSDS).
Catalog # CN-101-1 and CN-101-5
---
Share this Product
---
More from this collection