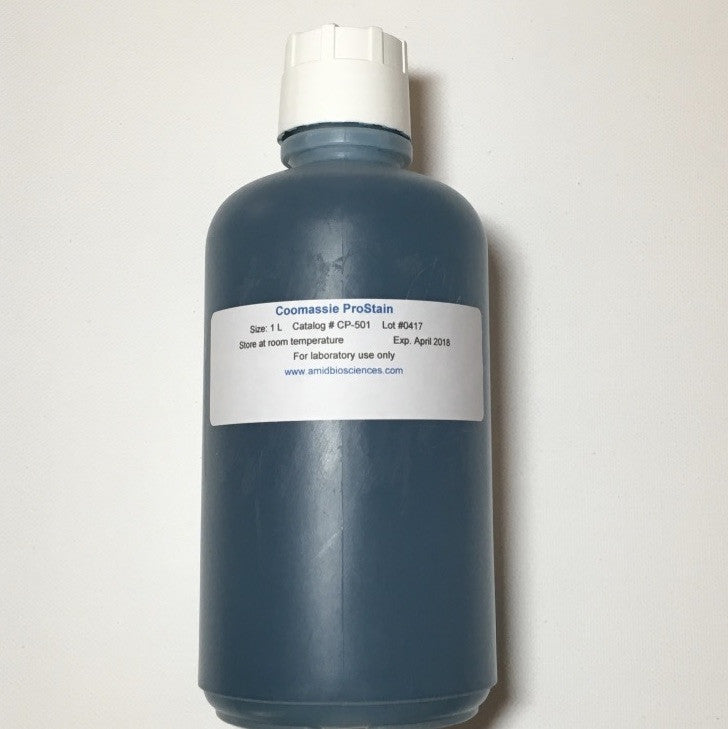 Amid Biosciences
Coomassie ProStain for Safe and Fast Protein Visualization
---
Coomassie Prostain™ is a formulation of colloidal Coomassie Brilliant Blue G-250 stain developed for staining proteins. It is ready-to-use, fast, sensitive, and safe. This stain eliminates extensive solution preparation time and expenditure. Unlike traditional Coomassie® stains, Coomassie ProStain™ does not require fixatives and destains containing organic solvents (methanol or ethanol) or acetic acid. Coomassie ProStain™ is easy to use and the visualization process can be completed in less than 2 hours (Basic protocol) and 20 minutes (Heat-mediated protocol). Proteins stained using the Coomassie ProStain™ are compatible with mass spectrometry (MS) analysis.
Special Features
Fast stain in less than 20 min
Working Detection Range: ~20-500 ng of protein
Methanol/ethanol or acetic acid fixatives are not required
Simple destaining in water
Direct view the protein bands by eye
Applications
Protein gel stain
Working Detection Range: 20-500 ng of protein.
Catalog # CP-501
---
Share this Product
---
More from this collection