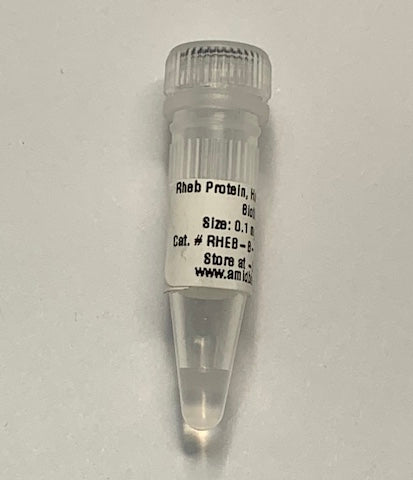 Amid Biosciences | Protein Engineering Company
Rheb Protein, Human, Recombinant, Biotinylated
---
Rheb (Ras homolog enriched in brain) is a small GTPase that functions as an important mediator between the tumor suppressor proteins TSC1. Rheb shares about 30–40% sequence identity with members of the Ras/Rap subfamily of small GTPases. Human Rheb consists of 184 amino acid residues. The 169 N-terminal residues form the GTPase domain; the 15 C-terminal residues are hypervariable with a flexible structure and comprise a conserved carboxyl CAAX motif that plays important roles in the farnesylation of Rheb and its association with membrane (1).
Recombinant Rheb protein with the N-terminal AviTag™ peptide and His-tag is produced in E. coli cells and site-specifically biotinylated at AviTag with BirA enzyme (https://amidbiosciences.com/collections/proteins/products/bira-biotin-ligase).
Tag(s): The N-terminal 8XHis and AviTag
Amino Acids: 1-184 of Rheb (UniProt # Q15382)
Catalog # RHEB-B-301
For Bulk Orders or Custom Packaging:  please contact info@amidbiosciences.com
Loading of Rheb with nucleotides or nucleotides' analogs can be performed as a custom service.
Storage buffer: 20 mM HEPES, pH 7.5, 250 mM NaCl, 5 mM 2-mercaptoethanol, 1 mM MgCl2 and 10% Glycerol
Purity: >90% by Coomassie staining 
Storage is recommended at -20°C or lower for longer periods of time. Minimize freeze/thaw cycles. 
International Shipping:  Product requires shipping on ice packs. Please contact info@amidbiosciences.com for shipment estimates
This product is for laboratory research use only.
Reference
Yu et al. Structural basis for the unique biological function of small GTPase RHEB. J Biol Chem
. 
2005 Apr 29; 280(17): 17093-100.
doi: 10.1074/jbc.M501253200.
---
Share this Product
---
More from this collection