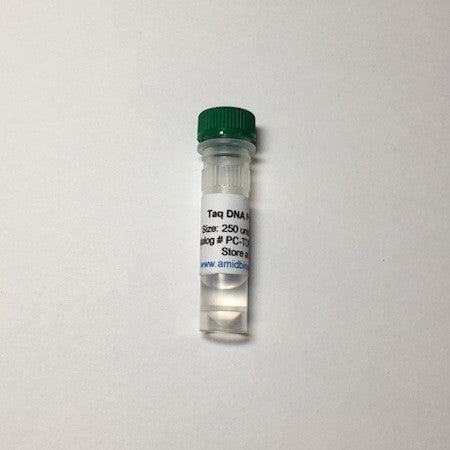 Amid Biosciences| Protein Expression and Purification Products
Taq DNA Polymerase
---
Taq DNA Polymerase is a thermostable DNA polymerase for everyday routine PCR. Taq DNA Polymerase possesses a 5´→ 3´ polymerase activity and a very low  5´→ 3´ exonuclease activity. The enzyme lacks 3´ → 5´ exonuclease (proofreading) activity. Taq DNA polymerase's terminal transferase activity of adding a single nucleotide (adenosine) at 3' end of the extension product allows TA cloning of PCR products. Products up to 5 kb can be amplified from templates including genomic and plasmid DNA, bacterial colonies, and cDNA products. It is supplied with 10X Taq Reaction Buffer.
Features and benefits
Isolated from a recombinant source
Non-proofreading DNA Polymerase
Tolerates a wide range of templates
Suitable for primer extension and TA cloning
Robust and reliable performance at low price
Catalog # PC-TDP-601
10 X Reaction Buffer (with Mg2+):
100 mM Tris HCl (pH 8.3 at 25°C), 500 mM KCl, 15 mM MgCl2,
Concentration:
Taq Polymerase is supplied as 5 units/µl in 20 mM Tris HCl (pH 8.0), 0.1 mM EDTA, 1 mM DTT, 0.1% Triton X-100 and 50% glycerol.
Unit Definition:
One unit is defined as the amount of enzyme that can incorporates 10 nmol of dNTP into acid-insoluble material in 30 minutes at 72°C.
Storage Temperature:  -20°C. The enzyme can be shipped at room temperature without any loss of activity.
International Shipping:  Product requires shipping on ice packs. Please contact info@amidbiosciences.com for shipment estimates
Usage:  This product is intended for laboratory use only. Not for diagnostic or other purposes.
---
Share this Product
---
More from this collection