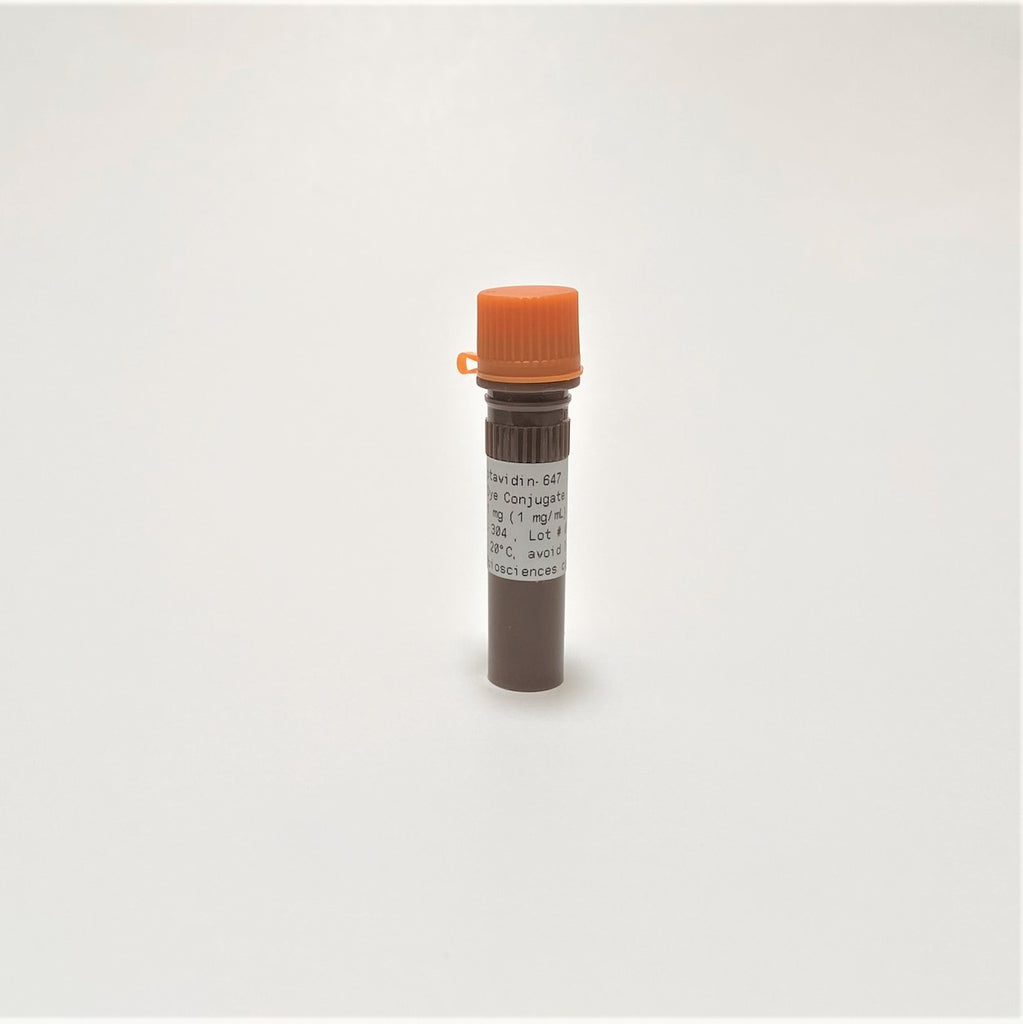 Amid Biosciences | Protein Engineering Company
Streptavidin-647 FluorDye Conjugate
---
Streptavidin-647 FluorDye conjugate is bright, far-red-emitting conjugate used for specific detection of a variety of biotin labeled proteins, antibodies, protein motifs, nucleic acids, and other molecules. A significant advantage to using long wavelength dyes such as Cy5 or Alexa Fluor® 647 dye over other fluorophores is the low autofluorescence of biological specimens in this region of the spectrum.
Streptavidin-647 FluorDye conjugate was optimized in fluorophore/protein labeling ratio to ensure high fluorescent signal and uncompromised streptavidin function. 647 FluorDye is equivalent to Alexa Fluor® 647.
Absorbance/emission wavelength: 650 nm/665 nm.
The Streptavidin-conjugate solution (1 mg/ml) contains 0.5XPBS buffer, pH 7.4 and 50% glycerol. 
Suggested applications: western blots, flow cytometry, imaging and microscopy, microplate assays and more.
Suggested Working Concentration or Dilution Range:
Western Blot: - 0.5-2 µg / ml
Histo-/Cyto-Chemistry: - 0.5-2 µg / ml
Dilution factors are presented in a range because the optimal dilution is a function of multiple factors, such as antigen density, permeability, etc. The actual dilution must be determined empirically by the user.
It is necessary to block endogenous biotin before staining samples with the fluorophore-streptavidin conjugate. If non-specific binding background is high, the concentration may be decreased to minimize background. The conjugate may also be centrifuged briefly using the supernatant only for staining. For in vitro research use only
Store the product at -20°C and avoid light.

This product is for laboratory research use only.
---
Share this Product
---
More from this collection