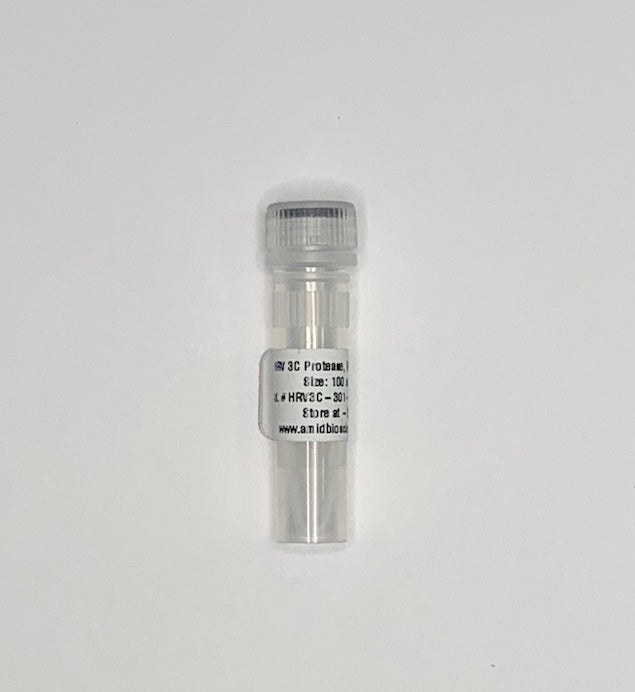 Amid Biosciences | Protein Engineering Company
HRV 3C Protease, Recombinant, HisTag | Affinity Tag Removal
---
Amid Biosciences HRV 3C protease is a recombinant cysteine protease derived from human Rhinovirus type 14. The enzyme is known as PreScission Protease. HRV 3C protease specifically cleaves between the Gln and Gly residues of the recognition sequence LeuGluValLeuPheGln/GlyPro. Besides the recognition sequence, the secondary and tertiary structures of the fusion protein influence on substrate recognition and cleavage.
The recombinant enzyme is a 21 kDa protein with polyhistidine (6xHis) tag, so it can be removed from the protease reaction solution through immobilized metal affinity chromatography (IMAC).

Benefits
Low temperature cleavage of fusion proteins.
Active in a variety of commonly used buffers.
On-column or off-column cleavage
Applications     
Removal of purification tags from fusion proteins.
SKU number: HRV3C-301-1
Activity:  ≥1000U/mg
Concentration: 1.1 mg/mL

Unit Definition
One unit of HRV 3C Protease is defined as the amount of enzyme that cleaves ≥95% of the control fusion protein (0.1 mg in 20 mM Tris-HCl, 100 mM NaCl, pH 7.5, and 2 mM 2-mercaptoethanol) in 16 hours at 4°C.
 
Physical form
Supplied in a solution containing 20 mM Tris HCl (pH 7.5), 0.1 M NaCl, 2 mM 2-mercaptoethanol, 0.04% Tween 20 and 50% (V/V) glycerol.

Storage: at -20°C.

International Shipping:  Product requires shipping on ice packs. Please contact info@amidbiosciences.com for shipment estimates

This product is intended for laboratory research use only.

---
Share this Product
---
More from this collection