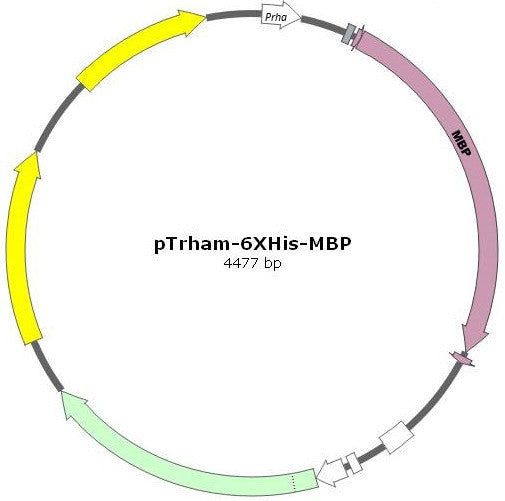 Amid Biosciences| Protein Expression and Purification Products
pTrham-6XHis-MBP Expression Vector for Improved Protein Solubility
---
E. coli maltose-binding protein (MBP) enhances the solubility and promotes the proper folding of its fusion partners.
Amid Biosciences has engineered and successfully tested pTrham-6XHis-MBP vector based on the rhamnose-inducible pTrham series of expression vectors for the production of dual His-MBP-tagged fusion proteins in the cytoplasm of E. coli. The MBP moiety improves the yield and solubility of its fusion partners while the His-tag facilitates and simplifies their purification with Immobilized Metal Ion Affinity Chromatography (IMAC) resins. Furthermore, the MBP tag allows for affinity purification of the fusion product on the amylose resin.
pTrham-6xHis-MBP vector encodes an N-terminal 6xHis-MBP tag followed by a TEV (Tobacco Etch Virus) protease cleavage site. The TEV site enables removal of the MBP tag from the protein following production. TEV is reported to have better specificity for its recognition site compared to EKT Thrombin or Factor Xa proteases.
pTrham-6xHis-MBP has the same features as Amid Biosciences' pTrham vector to ensure highly efficient transcription and translation of the cloned gene, the rhaBAD promoter is complemented with the rrnG anti-termination region, the bacteriophage T7 gene 10 translation enhancer, and ribosome binding site. The multiple cloning site (MCS) provides directional cloning options using a variety of restriction enzymes.
The fusion proteins are expressed under control of L-rhamnose-inducible rhaBAD promoter of Escherichia coli which ensures a tight control of expression of cloned genes. PrhaBAD promoter is capable of high expression levels but at same time displays low baseline gene expression in the absence of inducer. Combination of the tight control of expression with MBP fusion will often enable polypeptides that normally accumulate as inclusion bodies in E. coli to fold in to their biologically active conformations.
Features
High level expression of proteins with cleavable N-terminal 6xHis MBP tag
MBP tag improves protein solubility and yield
L-Rhamnose-inducible E. coli promoter ensures minimal basal expression in the absence of inducer
Directional cloning with a choice of restriction enzymes
The 6xHis affinity tag is for efficient purification.
TEV protease cleavage site for MBP removal
ampicillin resistance
Figure 1. The nucleotide sequence encoding the polyhistidine tag, and the first few N-terminal and the last few C-terminal residues of MBP, along with the corresponding amino acid sequences in single letter code, are shown. The Multiple Cloning Site sequence is underlined.
Storage: -20 oC
International Shipping:  Product requires shipping on ice packs. Please contact info@amidbiosciences.com for shipment estimates. 
This product is intended for laboratory use only.
Important Note: Purchase of pTrham-6xHis-MBP vector includes a license for use only at site of purchase and may not be distributed to other sites.
License: The pTrham-6xHis-MBP vector when purchased conveys a limited use license to the end user. This license prohibits the purchaser from selling, assigning or transferring this product to any third party without the express written consent of Amid Biosciences, LLC. Please review this license before purchasing this product.
---
Share this Product
---
More from this collection