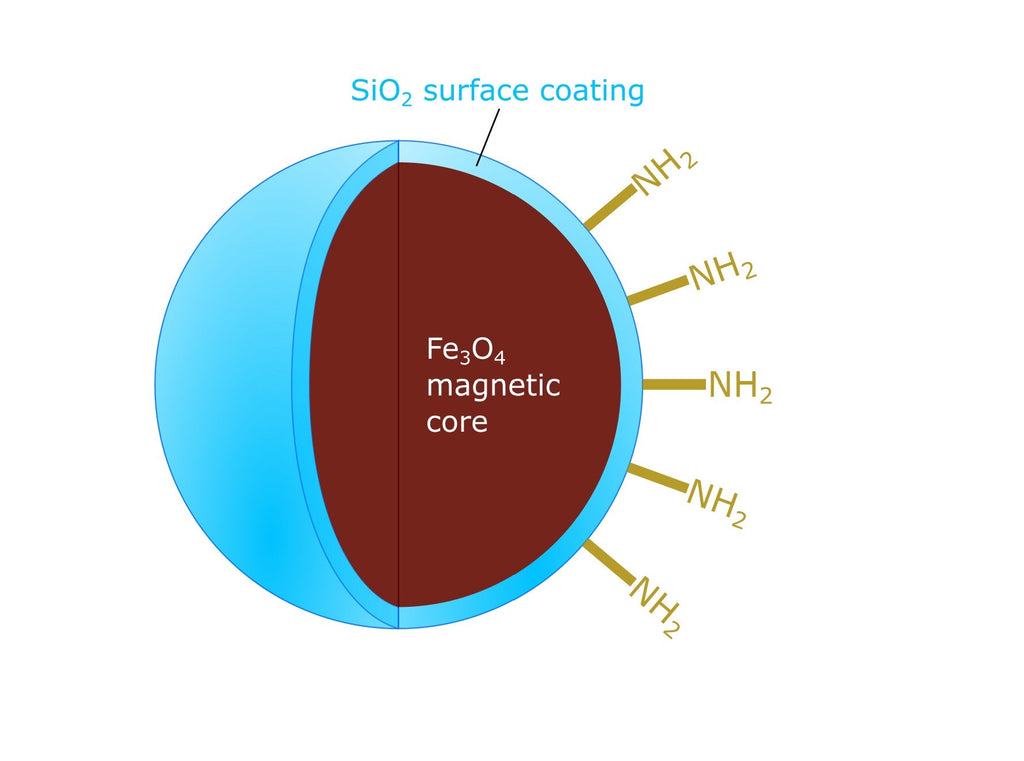 Amid Biosciences | Protein Engineering Company
Amine Functionalized Magnetic Nanoparticles | Proteins & Antibodies Purification
---
Amid Biosciences' AmiMag Nanoparticles are produced by employing a modified Stoeber process by hydrolysis of aminosilanes on magnetite surface. Presence of silica coating improves stability and shelf life of the magnetic Nanoparticles.

The surface of AmiMag Nanoparticles contains terminal NH2 functional groups facilitating hydrophilic properties. After activation through EDC or Sulfo-SMCC, these AmiMag Nanoparticles can be conjugated with proteins/peptides, oligonucleotides, antibodies or other ligands.
Properties:
AmiMag Nanoparticles are stable in water and common buffers.
Specification:
Size:

~ 

400 nm
Concentration: 10 mg/ml
pH: 7.0
Density: 1.3 g/ml
Applications:
AmiMag Nanoparticles allow quick separation from solution.
Ideal for isolation of proteins and peptides.
Immobilization of EDC or Sulfo-SMCC modified proteins/peptides and nucleic acids.
Storage/Stability
Suspension in water and 10% ethanol.  Wash the particles to remove ethanol. The suspension should be stable approximately one year stored at 2-8 °C.
Precautions and Disclaimer
SilaMag NanoBeads for laboratory use only; not for diagnostic, drug, household or other uses. Please refer to the Material Safety Data Sheet (MSDS).
Catalog # AN-101-1 and AN-101-5
---
Share this Product
---
More from this collection