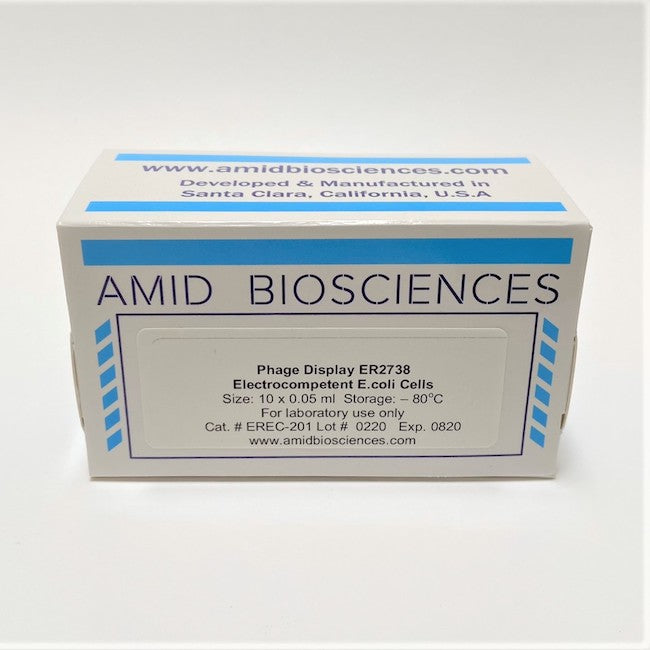 Amid Biosciences| Competent Cells and Protein Expression Vectors
Phage Display SS320 Electrocompetent E. coli Cells
---
The E. coli strain SS320 is a non-amber suppressor strain (sometimes called MC1061F′) prepared as high transformation efficiency (≥ 1 × 1010 cfu/μg) electrocompetent cells for phage display library screening. The SS320 strain harbors an episome that contains the F′ pilus that is required for bacteriophage entry to allow amplification of phage libraries. This episome also contains the tetracycline resistance gene, so cells should be grown in the presence of tetracycline to maintain the F′ pilus.  
SS320 electrocompetent cells are supplied as a pack of 10 convenient 50 µl per tube aliquots (sufficient for 20 reactions).
Phage display SS320 chemically competent E.coli cells are also available. 
Genotype
hsdR mcrB araD139 Δ(araABC-leu)7679ΔlacX74 galUgalK rpsL thi[F´ proAB+lacIqlacZΔM15 Tn10 (tetr)]
Catalog # SS320EC-201
Bulk quantities and custom packaging are available at very competitive prices for all Competent Cells. 
Features and Benefits
Transformation efficiency > 1 X 1010

 

transformants /µg pBR322
Useful for preparation of phage display libraries
Fast-growing
Tetracycline resistant
Storage:  at -80°C.
International Shipping:  Product requires shipping on dry ice. Please contact info@amidbiosciences.com for shipment estimates. 
Usage: This product is intended for LABORATORY RESEARCH USE ONLY. Not for diagnostic or therapeutic use.
Safety Data Sheet for Phage Display Electrocompetent E.coli Cells
Application References
Frei J. and Lai J. Protein and Antibody Engineering by Phage Display. Methods Enzymol. 2016; 580: 45–87.
---
Share this Product
---
More from this collection