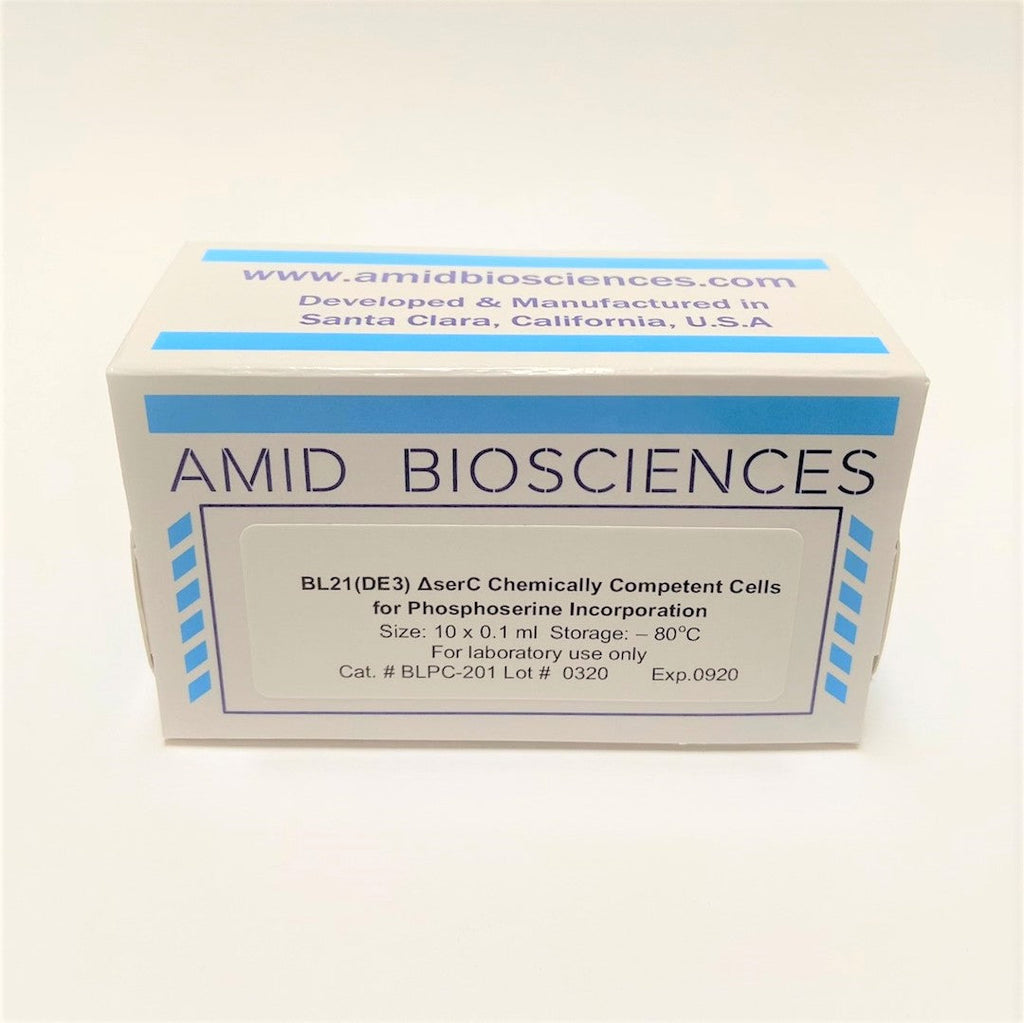 Amid Biosciences| Competent Cells and Protein Expression Vectors
BL21(DE3) ΔserC Chemically Competent E.coli Cells for Protein Phosphorylation
---
Amid Biosciences' BL21(λDE3) ΔserC is an engineered strain where serC gene was deleted to reduce the intracellular levels of phosphoserine. The abundance of phosphoserine in E.coli cells interferes with a site-specific incorporation of non-natural analogs of phosphoserine or phosphothreonine into recombinant proteins. In E. coli, phosphoserine is synthesized from 3-phosphohydroxypyruvate by phosphoserine aminotransferase encoded by serC gene.
BL21(λDE3) ΔserC chemically competent E.coli cells are supplied as a pack of 10 convenient 100 μl/tube aliquots.  The transformation efficiency is ≥ 1x106 cfu/μg pBR322 plasmid DNA.
E. coli genotype: fhuA2 [lon] ompT gal (λ DE3) [dcm] ∆hsdS ΔserC
[λ DE3 = λ sBamHIo ∆EcoRI-B int::(lacI::PlacUV5::T7 gene1) i21 ∆nin5]
Catalog # BLPC-201
Storage: - 80°C. 
Shipping:  Product requires shipping on dry ice. Please contact info@amidbiosciences.com for shipment estimates. 
Usage: This product is intended for LABORATORY RESEARCH USE ONLY. Not for diagnostic or therapeutic use.
Important Note: This product is subject to a Material Transfer Agreement (MTA), Amid Biosciences will generate the agreements and email them to you or your institution's MTA coordinator. The cells are available only for academic institutions in the US for research use only. 
Purchase of BL21(λDE3) ΔserC cells includes research use limited license for use only at site of purchase. This license prohibits the purchaser from selling, assigning or transferring this product to any third party without the express written consent of Amid Biosciences, LLC. Please review this license at our Legal Communique Section before purchasing this product.
In the absence of a license from Amid Biosciences, purchase of the Products does not grant any rights whatsoever to use the Products, either directly or indirectly, for any Commercial Purpose. Commercial Purpose means any and all uses of the Products and derivatives thereof by a party for monetary or other consideration and may include but is not limited to use (1) to manufacture a product; (2) to provide a service, information or data; (3) to develop, claim, patent or license another composition, kit or method; and/or (4) to transfer or re-sell the Products or their derivatives.
A license from Amid Biosciences is required by any person at a for-profit organization and by any person at a not-for-profit organization who wishes to use the Products for any Commercial Purpose or who wishes to transfer the Products, components of Products, or derivatives of the Products, or to provide services, information, or data derived thereby or therefrom for any Commercial Purpose.
References
Rogerson DT, et al. Efficient genetic encoding of phosphoserine and its nonhydrolyzable analog. Nat Chem Biol. 2015; 11:496–503.
---
Share this Product
---
More from this collection