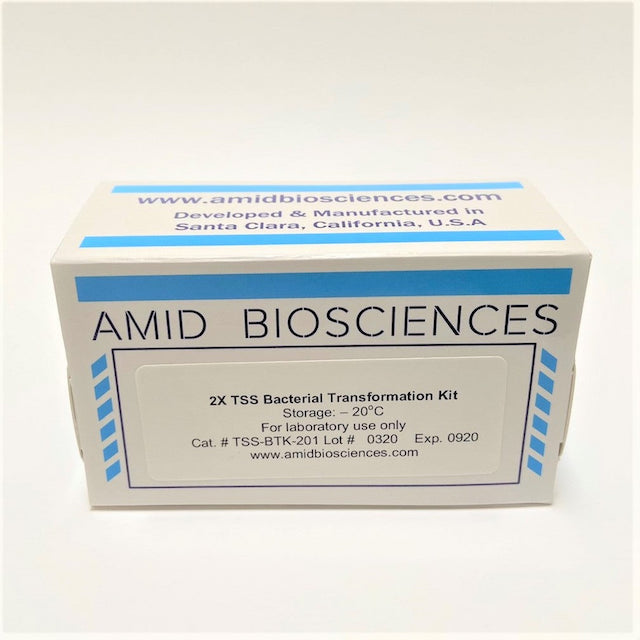 Amid Biosciences
2X TSS Bacterial Transformation Kit for Fast Preparation of Competent E.coli Cells
---
Transformation and Storage Solution (TSS) is used for the preparation of competent E. coli cells in a single step and to transform the cells without heat-shock. Amid Biosciences' TSS is optimized version of solution described initially by Chung et al. (1) and contains DMSO, PEG, Mg2+ salts, along with proprietary additives. This solution allows rapid preparation of the competent cells with typical transformation efficiencies that range from 105 to 107 cfu/µg of DNA, however, the transformation efficiencies up to 108 can be obtained for some E. coli strains.
For applications that require high efficiencies (e.g. library preparations, transformation of ligation reactions), Amid Biosciences' selection of ready-to-use Chemically Competent or Electrocompetent Cells would be a good choice.
Benefits
Fast preparation of competent cells.
Suitable for various E. coli strains (DH5a, HB101, JM109, XL1-Blue, and etc.)
Transformation cells without heat-shock.
Catalog # TSS-BTK-201
Kit Components & Storage 
2X TSS: 10 ml. Store at -20 °C.
SOC medium: 20 ml. Store at -20 °C or 4 °C. 
Control pUC19 plasmid DNA: 100 ng. Store at -20 °C. 
Shipping:  Product requires shipping on ice packs. Please contact info@amidbiosciences.com for shipment estimates. 
Usage
This product is intended for LABORATORY RESEARCH USE ONLY. Not for diagnostic or therapeutic use.
Fast Preparation of Competent Cells - TSS Protocols - Manual and Description
Reference                                                                              
Chung et al., One-step preparation of competent Escherichia coli: transformation and storage of bacterial cells in the same solution. (1989) Proc. Natl. Acad. Sci. USA 86: 2172. 
---
Share this Product
---
More from this collection