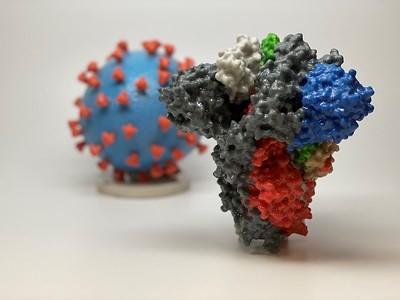 Amid Biosciences | Protein Engineering Company
SARS-CoV-2 Nucleocapsid protein, Recombinant, AviTag
---
SARS-CoV-2 Nucleocapsid Protein (N-protein) is a structural protein that binds to the coronavirus RNA genome, thus creating a shell (or capsid) around the enclosed nucleic acid. It is the most abundant protein for coronavirus. Recombinant N-protein was expressed in E. coli with the 8XHis tag and AviTag at the N-terminus.
Catalog number: COVN-301
Expression host: Escherichia coli (E. coli). 
Species: SARS-CoV-2
Expressed Region of N protein: Met1 – Ala419
Predicted molecular weight: 48.7 kDa
Tags: His, AviTag
Purity: > 90% as analyzed by SDS-PAGE
Storage buffer: 10 mM Tris-HCl, pH 7.5, 100 mM NaCl, 1 mM DTT and 50% Glycerol. 
Sequence:
MGHHHHHHHHGLNDIFEAQKIEWHEMSDNGPQNQRNAPRITFGGPSDSTGSNQNGERSGARSKQRRPQGLPNNTASWFTA
LTQHGKEDLKFPRGQGVPINTNSSPDDQIGYYRRATRRIRGGDGKMKDLSPRWYFYYLGTGPEAGLPYGANKDGIIWVAT
EGALNTPKDHIGTRNPANNAAIVLQLPQGTTLPKGFYAEGSRGGSQASSRSSSRSRNSSRNSTPGSSRGTSPARMAGNGG
DAALALLLLDRLNQLESKMSGKGQQQQGQTVTKKSAAEASKKPRQKRTATKAYNVTQAFGRRGPEQTQGNFGDQELIRQG
TDYKHWPQIAQFAPSASAFFGMSRIGMEVTPSGTWLTYTGAIKLDDKDPNFKDQVILLNKHIDAYKTFPPTEPKKDKKKK
ADETQALPQRQKKQQTVTLLPAADLDDFSKQLQQSMSSADSTQA

Storage: The product can be stored at -20°C or below. Avoid repeated freezing and thawing cycles. The shelf life of the product is unspecified.
For laboratory research use only. Direct human use, including taking orally and injection and clinical use are forbidden.
3D print images of a SARS-CoV-2 virus particle (back) and the spike protein (foreground) . On the virus model, the virus surface (blue) is covered with spike proteins (red) that enable the virus to enter and infect human cells. (Credit: the NIH 3D Print Exchange at 3dprint.nih.gov; NIH).
---
Share this Product
---
More from this collection